Home
Night on the Plaza Gala
Night on the Plaza
We are heading to Margaritaville for our fundraising gala Night on the Plaza 2022, and we can't imagine celebrating without you! We are busy making plans for this spectacular in-person event taking place on Saturday, July 16 – Save the Date!
Night on the Plaza is one way the Friends Foundation raises funds to support the Glendora Public Library's efforts in bringing life changing programs and services to the community.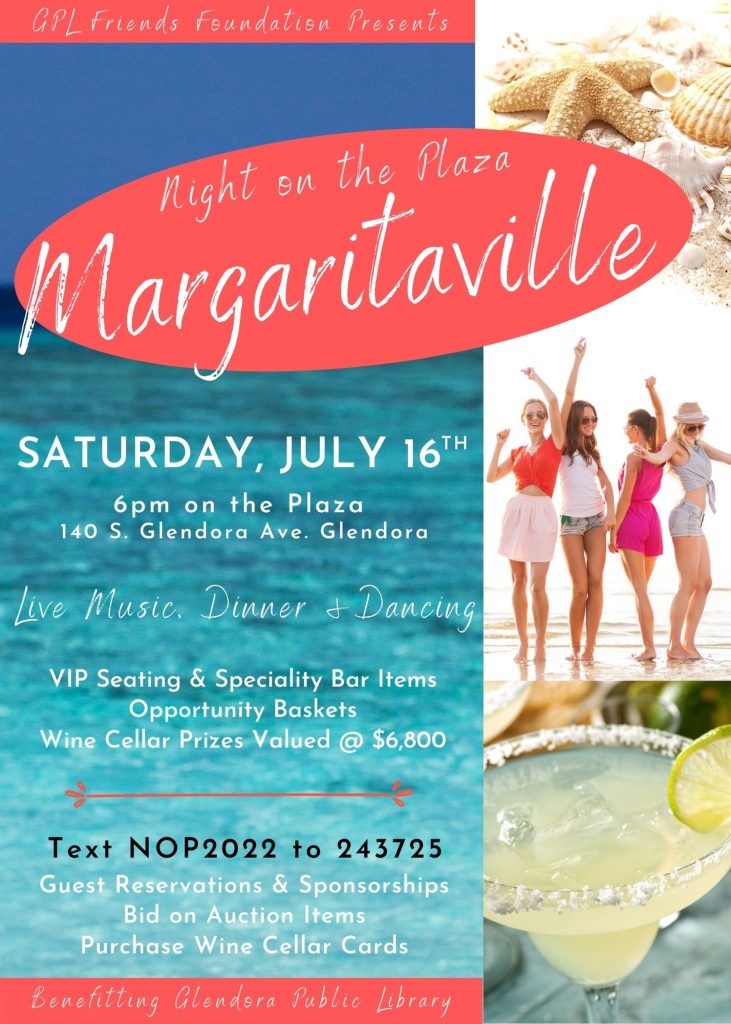 Our "virtual party" from Night on the Plaza 2021 was recorded, so incase you missed it, you can still catch it by clicking here.
In gratitude we want to thank our sponsors and donors:
Luminary Sponsors
Visionary Sponsors
Benefactor Sponsors
Patron Sponsors
Clearman Insurance Services
Janet Glaze
Sylvia Green
Katheryn Barger, Board of Supervisors County of Los Angeles 5th District
Associate Sponsors
Friend Sponsors
Dorothy Fountain
Cathie Hawkins
Kevin & Beth Hollingsworth
Stuart Luman & Erica Landmann
George & Pam Lue
Jason & Tomoko Toland
Innovation Fund Donors
Susan Bosquit
Jack & Charlie Ann Evanilla
Michael & Debra Kowalski
Maggie Lara
Beverly Leon
Katie Marquardt in honor of Kitty Garvey
Norbert & Andra Mercier
Dwight & Pam Richards
David & Carolyn Thomas
Margy Turner